Do You Want to Learn Braille?
I work as Braille Tutor for the Adult Education Department of Norfolk County Council.
I teach two evening classes at Wensum Lodge in Norwich. These take place on Tuesday and Thursday evenings, between 6.30 and 8.30.
| | |
| --- | --- |
| | |
| Tuesday Class | Thursday Class |
Many students are sighted, learning braille in order to assist blind children at school, or family members. This course is for adults who wish to read or write Braille. It is a mixed ability class and you will progress at your own speed. Firstly, you will learn the Braille alphabet, progressing to abbreviations and contractions (like shorthand). Students work through exercises which are checked and corrected by me. There is also provision for practising Braille reading.
Students will need to buy a Braille work book - cost £11. A Braille writer (as shown below) is provided for class use.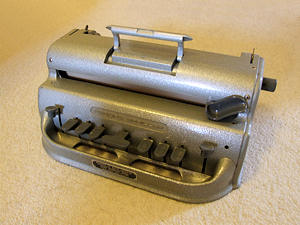 Perkins Brailler
This course is FREE!
To enrol call: 0344 8008002